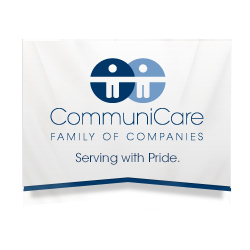 State Tested Nursing Assistant - STNA
Sorry, this job has expired.
Cincinnati, OH
Burlington House Rehabilitative and Alzheimer's Care Center, a beautifully renovated facility located on seventeen beautifully landscaped acres in Cincinnati, Ohio., currently has full time openings for experienced STNAs to join our highly professional and caring staff.

Burlington House is a division of CommuniCare Health. As a CommuniCare employee you will enjoy:
• Competitive wages and PTO plans.
• A menu of benefit options from life and disability plans to medical, dental and vision coverage, from quality benefit carriers.
• 401(k) with employer match
• Flexible Spending Accounts
• Paid vacation, personal, and sick days.
• 6 paid holidays.
• Sign-on bonus

The position of State Tested Nursing Assistant exists to provide routine nursing and personal care for residents. You will be responsible for:
• Ensuring that residents' personal care needs are provided for with an emphasis on quality, compassion, and timeliness.
• Ensuring that residents' medical needs are addressed through the delivery of quality nursing care.
• Maintaining physical environment in a clean, safe, and pleasant manner.
• Ensuring that nutritional needs of residents are met in accordance with established care plan.

You must be physically able to:
• Move (sit, stand, bend, lift) intermittently throughout the workday.
• Lift, push, pull, and move a minimum of 50 pounds.
• Assist in the evacuation of residents.

If you strive for excellence, come join our World Class team of employees in providing World Class care with dignity to our residents. Please click "Apply now" for immediate consideration!

CommuniCare Family of Companies is a privately held, multi-faceted healthcare management company in operation since 1984 that specializes in nursing homes, assisted living facilities and rehabilitation units. Our company's historic passion for excellence is evident in every facet of our service continuum. We are leaders in the long-term care industry and we take immense pride in our opportunity to deliver the highest quality of care. We're excited about your interest in joining CommuniCare and your desire to uphold our mission of Serving with Pride.

We are an Equal Opportunity Employer.
17591